Last Updated on August 5, 2023 by Easyapns
Ecommerce is getting bigger and bigger with each passing day. Nasdaq predicts that by the end of 2040, consumers will make over 95 percent of purchases via Ecommerce! Independently, OptinMonster reports that approximately 93.5 percent of current global internet users have shopped online at least once.
While conventional retail is still more prevalent than E-commerce, a gradual shift can be seen. Since Ecommerce is more aligned with the fast-paced life of the masses, predictions about a predominately Ecommerce centric world are likely to come true.
Hence, E-commerce is a great sector to be in currently. Starting your online business in today's landscape can allow you to leverage the early-mover advantage. But, merely starting an online business is not enough. Since there is a lot of competition in the industry, it is essential to focus on the right elements for the success of your business.
6 Critical E-commerce Success Factors
Here are critical Ecommerce success factors that will help make or break your business.
#1. Quality Customer Service
The winning e-commerce brands have one thing in common- they offer excellent customer service.
According to the Harvard Business Review, the modern shopper's purchase journey doesn't end when they buy a product. Instead, post-purchase is an integral aspect. It ensures that the consumer returns and generates positive word of mouth for your brand.
Here, we can quote the example of Leatherskinshop (the maker of leather goods.) The brand tries its level best to deliver upbeat customer service. This way, they tie the bond of a lasting relationship with their customers. Now, that trust goes a long way, and their customers do the advocacy for their brand.
Indeed, customer service is an excellent way to ensure a positive post-purchase experience while guaranteeing a smooth buying process, at the same time. This is because quality customer service helps in boosting the trust of customers in a brand.
In E-commerce, when consumers don't have the opportunity of interacting face to face with the brand, customer service becomes even more critical. It helps to offer personalization while also allowing the e-commerce store to detect problems they previously weren't aware of.
#2. Having a Multichannel Marketing Strategy
This is a great decade for marketers. After all, there are just so many platforms and channels to market on! There was once a time when marketers were limited to print, media, and out-of-the-home. Now, with digital channels in the mix, their world has expanded.
Having a multichannel marketing strategy is imperative for E-commerce since they operate in an online environment and hence must have a strong 360-degree online presence.
Focus on affiliate marketing, social media, email marketing, referral marketing, as well as traditional platforms. Indeed, certain channels are better suited for a given type of audience, and you should allocate more portion of your marketing budget to them.
But, merely focusing on one channel is very risky. After all, one should never put all their eggs in one basket!
#3. High Conversion Rate
A critical success factor for an online business is the conversion rate. The conversion rate is defined as the percentage of visitors that end up completing the transaction.
Why does it matter? Well, in the end, the only thing that matters is how many people are purchasing from your store. Just increased traffic to your website or positive word of mouth isn't enough to seal the deal.
To guarantee you have a high conversion rate, and hence better revenue, you must design your online store very wisely. One of the biggest reasons many abandon their carts midway is because of the complex checkout process, lack of relevant product information, high shipping costs, or too much demand for customer information.
#4. Effective Product Pricing
Now, comparing prices across brands has become very easy. Previously, consumers didn't have such free and open access to information. One of the best and worst things about E-commerce is that the prices of products are up for display.
This is a good thing because it ensures easy tracking of competition. But, at the same time, if you don't regulate your product prices according to your competitors, the fact that the costs can be seen by consumers means that people may switch. That is unless you build loyalty among customers. It also makes it easy for brands to indulge in price wars.
Whether you decide to match your rivals or have a premium price strategy, make sure you conduct research and then come up with a proper product pricing strategy. Types of pricing include value-based, skimming, penetration, and competitive pricing.
Consider all the different aspects that affect your E-commerce business and select a value that is right for your business.
#5. Creating the Right First Impression
According to a wide variety of studies, people take at most seven seconds to form first impressions. And the perspective of a user is defined by their first impressions of a brand. This is even more crucial for E-commerce. If you fail to make the right first impression, people will abandon your website, never to visit it again.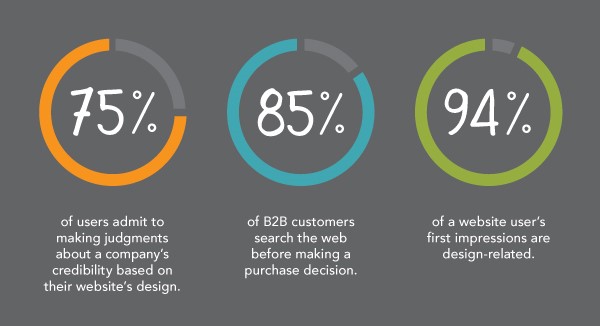 For the success of your online business, don't just focus on the functional aspects of your website. Take into account the aesthetic elements as well. Use the right amount of whitespace to create simplicity. Find the right balance between visuals and written content.
#6. Having a Secure Shipment Process
Ask any consumer who hasn't given online shopping a chance, and they will tell you that the complex and ambiguous shipment process is one of the biggest reasons for not opting for the platform.
In Ecommerce, both the personal and financial data of consumers are handled online. In the case of a security breach, there is a high chance that consumer data gets compromised. Keeping in mind the recent Facebook breach, it is understandable why people are skeptical of online shopping.
To cater to such an audience, online businesses need to have secure websites and shipment processes. Use SSL to help secure your site. Further, add two-factor authentication and other verification methods.
Verdict
Taking into account each critical success factor is essential for running an online business. In this competitive industry, you must go the extra mile to stand out!
Do you think there are other factors worth considering? Let us know!
Author Bio
About Ashley Rosa: Ashley Rosa is a freelance writer and blogger. As writing is her passion that why she loves to write articles related to the latest trends in technology and sometimes on health tech as well. She is crazy about chocolates. You can find her on Twitter: @ashrosa2.