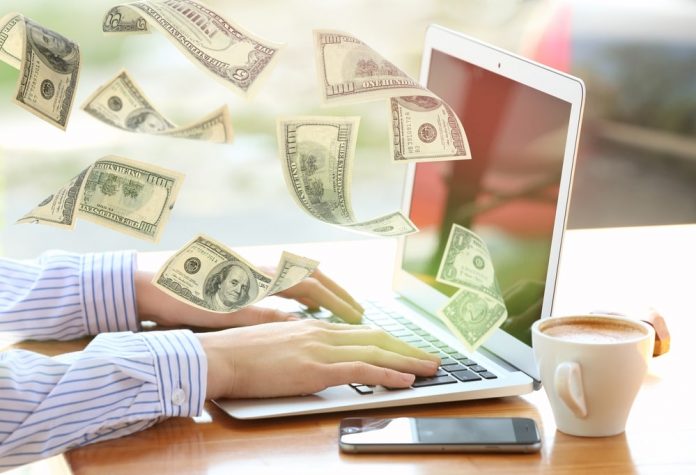 Last Updated on August 3, 2023 by Easyapns
There are lots of ways in which you can make money online and the internet offers you several such opportunities to generate passive income that is sufficient enough for you to abandon the rat race. However, not all may be a legit and realistic way.
Things to Look for while Selecting the Ways to Make Money Online
Apart from looking at the legitimacy factor when you are looking to earn some fast cash, you will also have to consider a few other factors such as:
It must be a long-term source of income
Must be more sustainable and produce better results
It must be easy, safe, and secure.
This means you must look for realistic ways that require some amount of discipline both from you as well as the other side.
However, when you make your choice you must know a few specific points such as:
Some of these sources will produce immediate results enabling you to meet your daily and basic monthly needs such as rent, groceries, and utilities.
On the other hand, there are a few sources that will potentially transform and revolutionize your life as well as your finances in the long term.
Another important thing to know is that you can earn, spend, save, pilfer, invest, and even waste money but not time. It is far more valuable than money as you cannot recreate time.
Therefore, make sure that you make the best of the time and spent it on useful sources and purposes only. Also, make sure that you avoid the pitfalls by following a few basic guiding principles when you make your choice.
The App Economy
The first thing that will come to your mind when you consider making money online is by starting a blog. This is because blogging is supposed to have more longevity than other options for income-producing abilities. However, this does not be the case always as there are several non-blog-starting paths that you can take up for this purpose.
One easy way to earn money online is by leveraging the app economy. This will help you to address those immediate financial needs of yours. There are lots of apps to choose from and a few of these are:
Uber or Lyft: If you are a local you can use these or even the more competitive Didi of China if you are looking for flexible hours of work.
Postmates: You do not need a car to use this app and make money in some locations where even a bike would suffice.
iBotta: This app will help you win cash-back rewards when you purchase featured products from selected retailers. It is a simple and effective app where all you have to do is add a rebate, go shopping, snap a photo of the receipt, and get your cashback.
Task Rabbit: Great way to make extra income on the side on your own terms as this app will vet each service provider for the highest quality.
Ebates: Much similar to the iBotta app, this does not need to scan your receipts to earn cash back rewards.
Swagbucks: You can earn cash back and gift cards with this app while shopping online, watching a video, answering surveys, and even surfing the web.
Use of Existing Websites
You can also make the best use of existing websites for making money online. This includes both active and passive income methods. You will have to devote a considerable portion of your time for it to build up earnings slowly and arrive at autopilot without having to put in any extra effort. A few such websites are:
Craigslist: This is the most popular go-to resource for people over a decade and the best source to sell your stuff.
Upwork: Another useful resource to sell your stuff where you do not need a merchant account or own a website.
Cafe Press: This will allow you to create digital designs and sell them to earn a commission on anything that sells and not have to deal with any complex logistics.
Mechanical Turk: If you are into human intelligence tasks then this Amazon site is the best resource. However, you will need a good volume to make a considerable amount of money.
There are also other websites such as Flippa, Etsy, Shutterstock and iStockPhoto, Threadless, and Zazzle amongst others that will prove to be a great source to sell your product, service, or talent.
E-commerce or Affiliate
You can also enter into e-commerce if you want to sell your own stuff. Of course, you will have to own a website of your own. That does not mean you will need to know all the technical configuration and requirements to design sites like liberty lending or others as you can get professional help for designing and hosting an account.
You will also need e-commerce software and proper traffic which you can leave for the SEO agency. It is hard work if you do it all by yourself but is productive if you take professional help.
You can also sell as an affiliate of one of loads of resources such as:
ClickBank,
Share-a-Sale
Commission Junction
Rakuten Marketing
Impact Radius and many others.
Moreover, several large companies have their own affiliate programs that you can choose as well. However, do your due diligence to find the right company and the relevant product or service that you can easily sell to your target audience easily as an affiliate.
Other Common Ways
There are a few common ways to make money online as well. Once again, starting a blog is not the only one here.
Email Marketing: You can try out your hand at email marketing if you are interested in online marketing. Simply set up the email software and start creating a lead magnet that you can use in the sales funnel. If you can build the list up you can earn anywhere up to $10,000 per month.
Training Programs: You can also offer webinars training as this is one of the most potent ways to make a huge amount of money online.
No matter whatever source you choose to make money, make sure that you provide value so that you make your efforts more sustainable.